What To Expect At Our Services . . .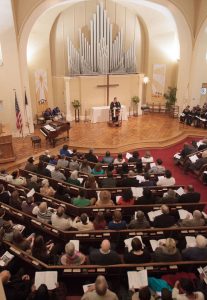 Sunday worship services are at 8:00am & 10:45am. During the summer months our Sunday late service is held at 10:00am. There are week day worship services which are explained further below
In an effort to meet both your spiritual and scheduling needs, Each service has a distinctly different style providing individuals with an opportunity to find one that most suits their personality.
Our 10:45 AM service is our traditional service with music – our Chancel Choir, or the Chancel Bells, or sometimes an assortment of musicians and bands. Our Chancel Choir Director and Organist, Sharon Maurer, is the best in the area. This service is more formal in its liturgy, and includes the reading of the Gospel, the Hebrew Scriptures, and the Lessons from the Early Church. There is the Word for Children and a powerful message delivered during the Homily by Pastor Chris. Communion is served by the Elders to the congregation in the pews, approximately ten times a year. This is our best attended service.
A slightly less formal service is held at 8 AM every Sunday for early risers. Although still containing all the essential components of a church experience, this service is a bit less formal. The Early Service always has communion, although it is offered in a non-traditional manner. Participants form a circle around the outside of the pews so the Pastor and Elders may bring bread and wine (or grape juice) to each person. All are welcome to participate in Communion.
During the week, there are worship opportunities. On the first Thursday of the month at 6 pm, there is a Vespers service. This service provides a quiet and reflective environment for the participants as they pray and listen scriptures, and reflect on their lives. On the second Thursday of the month, Messy church is held at the church, starting at 6 pm. This service is open to families, and people of all ages. A meal is provided to begin this worshipful experience, following a lesson, Whoosh Bible, crafts and activities. These weekday services occur within the months of September to May.